Newark is a unique and historically rich city that we are honored to be a part of. We invite you to join us at Marcus B&P where Chef Marcus Samuelsson brings his passion for food and culture to the neighborhood we are so proud to call our home.
Named for the Swedish concept of BP or "back pocket," this is a spot where you can meet your family, friends, or coworkers at the Bar (the "B") or take home some delicious locally grown Provisions (the "P") any night of the week.
For all press inquiries please contact: cmcrane@baltzco.com
This email address is for media inquiries only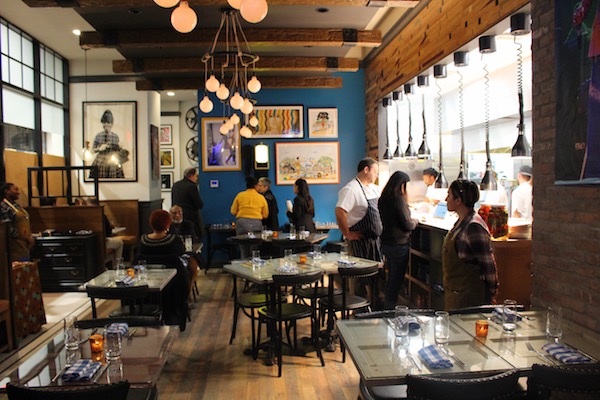 Marcus Samuelsson is the acclaimed chef behind many restaurants worldwide including Red Rooster Harlem, Red Rooster London, and Marcus B&P. Samuelsson was the youngest person to ever receive a three-star review from The New York Times and has won multiple James Beard Foundation Awards including Best Chef: New York City. He was tasked with planning and executing the Obama Administration's first State dinner honoring Indian Prime Minister Manmohan Singh. Samuelsson was also crowned champion of television shows "Top Chef Masters" and "Chopped All Stars," and served as a mentor on ABC's "The Taste." A committed philanthropist, Samuelsson co-produces the annual week-long festival Harlem EatUp!, which celebrates the food, art, and culture of Harlem. Samuelsson is co-chair of the board of directors for Careers through Culinary Arts Program (C-CAP). In May 2016, he was inducted into the James Beard Foundation Who's Who of Food and Beverage in America. He is the author of multiple books including The New York Times bestselling memoir Yes, Chef, the young adult version-- Make It Messy, Marcus Off Duty cookbook, and his latest book-- The Red Rooster Cookbook: The Story of Food and Hustle in Harlem. In addition, he is one of the founders of the website Food Republic. Samuelsson recently completed filming his new TV series titled, "No Passport Required," with VOX/Eater and PBS which will air July 2018.
Chef James Bowen is a native of the San Francisco Bay Area, where he grew up watching his grandmother, an Indiana native, prepare country-style fare daily. Chef Bowen's love of cooking (and eating!) led him to the California Culinary Academy. Shortly after graduating, he moved to New York City to pursue a career in fine dining, securing a role at Riingo followed by positions at Aquavit and Gordon Ramsey at the London.
Most recently, Chef Bowen has lead the culinary teams at restaurants such as August, Red Rooster/Ginny's Supper Club and The Gander.
If you are a local NJ food business that would be interested in partnering with us, please shoot us an email at info@marcusbpnewark.com. Opportunities include selling your shelf stable items at our Provisions counter, using your produce in our recipes, and holding pop ups within our store. We can't wait to hear from you!